read the articles that have been written about my Cyprus and Turkish extra virgin olive oil, which i am immensely grateful to those that have written about my products and extremely proud of my products
i hope i have honoured my late father who put in so much work into planting these olive groves in 1950
read the articles below regarding
Cyprus extra virgin olive oil
&

Turkish extra virgin olive oil

all produced from my own olive groves
New York magazine spring 2006

Embassy Electrical Supplies

England's best olive oil, fresh and grassy-tasting, is available only at an electrician's shop in Clerkenwell. Mehmet Murat sells the single-estate oil pressed from trees his parents planted in Cyprus 50 years ago. (76 Compton St.; 44-020-7251-4721).
---
times online

November 22, 2008

Electrician Mehmet Murat turns the spotlight on olive oil
But, it is the olive oil, which remains the star — smooth, bright and fruity with a length of taste that any winemaker would kill for.

---
tiscali
Food heroes

Mehmet Murat, owner of Embassy Electrical Supplies in London's fashionable Clerkenwell, is of Turkish Cypriot extraction and after inheriting olive groves from his parent's small farm in Louroujina, started selling the oil and olives from his small shop under the name Murat Du Carta. The venture was so successful that he purchased another property in Turkey and planted a grove of a further two thousand trees to meet demand.
In 2007, a passing journalist for New York Magazine discovered the shop and declared the oil "England's best". I can't claim that as, despite my best efforts I have not tried them all, but I can tell you that Murat Du Carta is stunning stuff, deliciously green and fresh, the perfect oil for salad dressings, drizzling over pasta or even just sopping up with chunks of crusty bread.
If you live in London, it is well worth popping into Mehmet's shop. He is always happy to give sample tastes and to tell you more about his oils. If you live further away, check out his website at www.planetmem.com or contact him at:
EMBASSY ELECTRICAL SUPPLIES
76 Compton Street
London
EC1V 0BN

TEL: +44 (0) 20 7251 4721
---
Then there are savoury options, like a really great culinary oil - such as Cyprus Extra Virgin Olive Oil. Named 'England's best' by a New York Magazine journalist, this delivers the true taste of the Mediterranean in spades (from £4.50, www.planetmem.com).
---
dos hermanos
A little over a year ago, I posted about Embassy Electrical Supplies, a small shop on Compton St, where, alongside fuses, wires and plugs for Clerkenwell's handymen, Mehmet Murat sells olive oil sourced from his own groves in Turkey and Cyprus. It is some of the best I have tasted in a long time, fresh and green, just the way I like it.

I popped in to see Mehmet again earlier this week and came away with a bottle of his latest Turkish oil and a bottle of his Cypriot oil along with some rather lovely olives, which he recommended I rinse, drizzle with oil, lemon juice and a few chilli flakes.


It is people like Mehmet who are the real food heroes of the U.K, unassuming, and dedicated to producing the best oils and olives he can
---
yelp
Today, whilst wandering around the neighbourhood during a break from a temp posting, I stumbled upon this electrician-cum-boutique olive oil producer. Smoking a cigarette and reading the card posted to the door an old man exited and insisted quite quietly that I pop inside for a sample. I smiled politely and thanked him for his endorsement. I was already intrigued. Electrician? Boutique olive oil? Surely this is the stuff of good London city stories!

Made short, the experience was wholly gratifying. The proprietor - inheritor and rejevenator of family plots in Cypress and in Turkey - enthusiastically took me through his history, his growing region, his products, and at my urging his distribution model (I'm something of a nerd), all in under ten minutes. I tasted oil from his Cypriot groves and from his Turkish groves (Cypriot - astonishingly light; Turkish - spicy aftertaste), as well as some of his olives.



Though my pockets were empty at the time I will be returning as soon as possible to stock up on his goods and share them with my family and friends. This is exactly what local businesses are brilliant for.
---
qype
Surely, there can't be another store on the planet where you can satisfy your needs for some three core earth cable, whilst sampling some of the finest olive oil you will ever taste. And on that subject, the friendly, no obligation tasting is a business move as smart as Einstein: the moment their selection of oils - direct from the olive groves of Cyprus and Turkey and all of various ages - touched my lips I was like a three year old, screaming ''THAT ONE! THAT ONE! THAT ONE!' then, 'NO! THIS ONE! THIS ONE! THIS ONE!' When you taste them, in quick succession, it is quite amazing how different and distinct the array of flavours caressing your palate actually are.
So, how did this come about you ask? Well Mehmet Murat's family have been in the olive business since 1950, tending to their groves with love and passion. Then, about seven years ago, he inherited the whole damn lot and swiftly incorporated this new venture into his existing business. Brave, you say? I'd call it genius.
The business has expanded to incorporate farms in Turkey, and in the EC1 electrical shop there is also a range of other delights including olives, candied walnuts and pomegranate molasses - the latter once drenched over vanilla ice cream becomes as addictive as a crack sandwich.
If you can't make it down, they do show up at various farmers' markets and there is a delivery service where Mr Murat will gladly dispatch your delicacies locally or via courier throughout the UK. Check the website for details.
Of course it goes without saying, if you're in the area and need plugs, bulbs, tools or cables, they will sort you out good and proper with all those too.
---
gulf life
the best eating on the network

BEST…OLIVE OIL IN LONDON
TURKISH EMBASSY ELECTRICAL SUPPLIES
THERE ARE PLENTY of places to buy olive oil in London, but there's only one store where you'll find bottles of top-quality product for sale alongside boxes of screws, reels of cable and cans of WD40. Mehmet Murat has had his electrical supplies shop in Clerkenwell, east London, since 1981, but when he inherited his family's Cypriot olive grove in 2001 he decided to start importing the first 1,000 litres of oil from each press with the aim of selling it alongside the rest of his goods.
"It doesn't seem strange to me," he says from behind the counter of his small shop. "I mean, it's unusual here, but it's the traditional way of doing it in Cyprus. You might have a tailor in town who grows olives, so if he's good you go and buy your oil from him. It just makes sense to do it that way."
The oil is remarkably smooth - good enough to taste on its own without bread - and has a subtle, spicy aftertaste that makes it ideal for use in salads and dressings. In fact, the oil is now so popular that it rivals the electrical goods in terms of revenue generated, and Murat has invested in olive and citrus groves in Turkey that enable him to produce a wide range of oils, table olives, wild herbs and hand-made spices, all available from his electrical store. Steve Watson www.planetmem.com
---
the guardian / the observer
The 50 best things to eat in the world, and where to eat them
From cake, steak and tapas, to oysters, chicken and burgers, Killian Fox roamed the world to find the 50 best things to eat and the best places to eat them in, with a little help from professionals like Raymond Blanc, Michel Roux, Ruth Rogers and Rose Gray
20. Best place to buy: Olive oil




Turkish embassy electrical supplies, London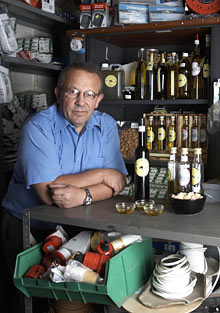 Mehmet Murat in his electrical shop. Photograph: Andy Hall
The most unlikely olive oil vendor in the world? At his electrical supply shop in London's Clerkenwell, Mehmet Murat sells wonderful, intensely fruity oil from his family's olive groves in Cyprus and south-west Turkey. Now he imports more than a 1,000 litres per year. His lemon-flavoured oil is good enough to drink on its own.
76 Compton Street, London EC1, 020 7251 4721, www.planetmem.com
http://www.guardian.co.uk/lifeandstyle/2010/sep/02/best-olive-oils#history-link-box
Three of the best extra virgin olive oils
Good-quality olive oil is essential for mediterranean cooking, but which is the finest on the market?
Chateau Carman Turkish Stone-Pressed




£6 for 500ml,

planetmem.com

, 020-7251 4721

Chateau Carman Turkish Stone-Pressed

Produced to organic standards in south-western Turkey, this spicy, herbaceous oil has such a distinctive flavour that it's a salad dressing all on its own, but would also make a superb mayonnaise.
Oliflix Organic
£9.99 for 750ml,
elolivo-olive-oil.com
, 0843 289 21 91

Oliflix Organic

Fruity, rich and almost buttery in flavour, this full-bodied oil would be the perfect finishing touch to a mayonnaise to go with seafood or new potatoes, and would also be delicious in gazpacho.
Oliveology 17C
£17.50 for 350ml,
oliveology.co.uk
, 0203 091 9044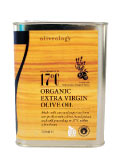 Oliveology 17C

This early-harvest oil is made from unripe fruit, crushed with lemons, orange and thyme, and is exquisitely aromatic - like walking through the Greek hills on a hot day. Try with a salad or over grilled vegetables.
guardian.co.uk © Guardian News and Media Limited 2010